P75 COMMANDER REIMER MIXER
Standard Features
Available Mounts: Truck / Trailer
Easy Sheet (Eletric Mesh Tarp)
9" Auger
3 x Admix System
Electric Internal Vibrators
Wireless Remote Control
Printer
Strobe Lighting
Marker Lights
Commander Control System
Reversing Camera Unit
Chute Rack and Three Chutes
Rear Auger Mounted Hydraulic Receptacle
Chute Supplied / Fitted
Wash Down Hose
Wheel Barrow Rack
Standard Power Pack (Trailer Mount Only)
Technical Specifications
| | |
| --- | --- |
| Production Capacity (m3/yd3) | 7.5 / 10 |
| Production Rate (m3/hr) (yd3/hr) | 50 / 65 |
| Aggregate Bin (m3/yd3) | 4.6 / 6.05 |
| Sand Bin (m3/yd3) | 3.95 / 5.15 |
| Cement Bin (m3/yd3) | 2.85 / 3.7 |
| Water Tank (l/US gal) | 1550 / 410 |
| Auxiliary Engine | Available Option |
| Hydraulic Pumps | Load sensing axial piston pump |
| Aggregate Proprietary Belted Chain Delivery System (mm/in) | 610 / 24 |
| Cement – variable metering auger (mm/in) | 150 / 6 |
| Water Delivery System | Hydraulic pump – manual valve |
| Dual Product Admix. System (l/US gal) | 3 tanks 45 / 12 |
| Mix Auger Length (mm/in) | 2550 / 102 |
| Mix Auger Diameter (mm/in) | 250 / 10 |
| Vibrators No./ Type | 1 – sand 1 – cement /Pneumatic |
| Monitoring Display | Reimer MasterMix |
| Operator Controls | Omnex wireless with redundant controls on main panel |
Optional Extras
Some features / options are not available on all models.
Body
26" Rear Extension 52" Rear Extension Aggregate Bin Extensions Aggregate Bin Liner Cement Fill Pipes Fender Upgrade Manual Swivel Chute Onboard Toolbox Side Mount Diesel Engine Package
Application
4 Admix System 12" Auger Additional Vibrators (4) Colour Feeder Fibre Feeder Heat Exchanger High Volume SCM Bin Low Volume SCM Feeder
Safety
Cement Bin Rear Folding Ladder Cement Bin Safety Rails Rear Safety Platform Water Tank Safety Rail
Verification
Belt Material Flow Sensors Gate Height Verifi cation Sensors Load Cell System Low Level Cement Bin Sensors Verifi cation Package Water Tank Level Sensor
Additional
Additional Front Water Tank Additional Oil Cooler Auto-Lube System Auxiliary Side Water Tank Custom Paint High Volume Hydraulic Pump Pressure Washer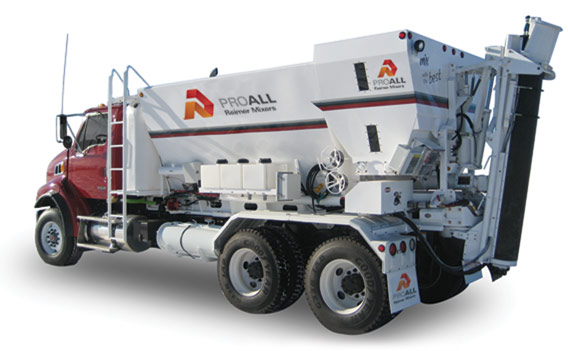 The entry model mover and shaker of the ProAll Reimer Mixer line, configured for high-volume production capacity. A new look and new technology means it leads the pack in the way the world pours concrete. The P75 Commander promises a more capable, more precise and more responsive mixing experience – every time.
The P75 Commander is also available on a trailer mount.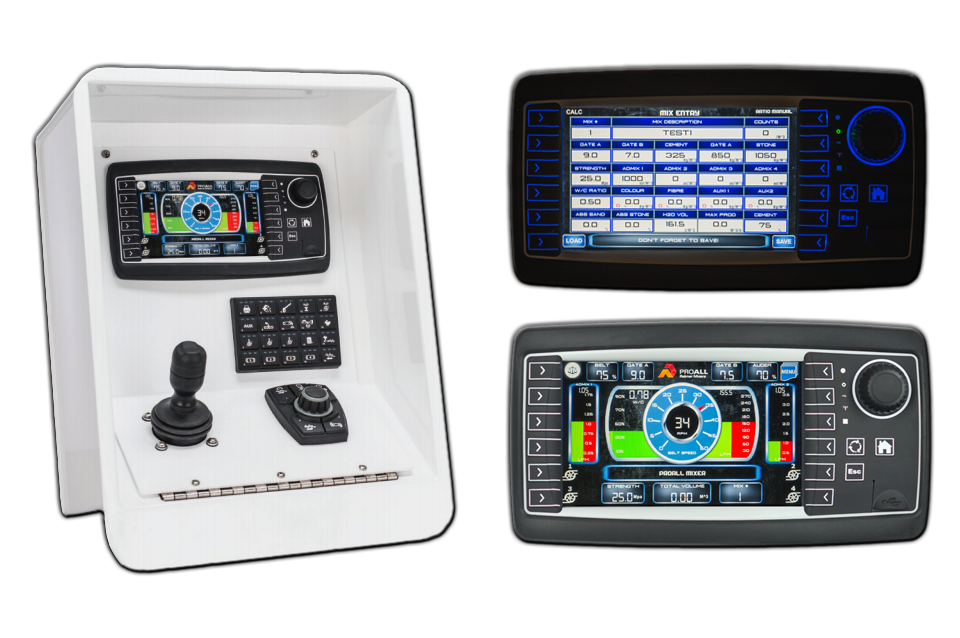 Commander Control System
Commander Control System: An all-new control system making your Mixer the most high performance mobile mixer in the world.
All elements of your mix are precision measured several times a second for perfect accuracy. The all-in-one dashboard gives you total control of your mix with digital controls. All functions are connected, including belt speed, water and cement - so your slump and strength are right on, every time.
All mixers come with the Commander Control System as standard.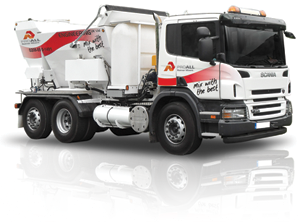 Ideal for tight spaces like urban roadways, but with the same throughput capacity of larger models.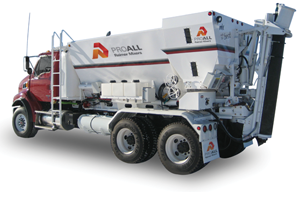 Entry model mover and shaker Reimer Mixer, configured for high-volume production capacity.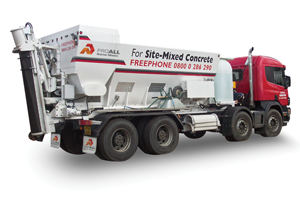 Premier's largest work horse, this unit is configured for high-volume production capacity.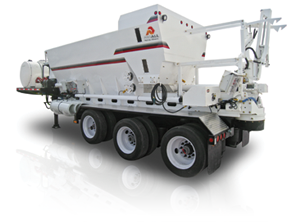 Ultimate in independent flexibility, pull this portable volumetric plant to site and start producing.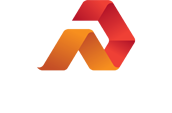 Address
Premier MBP Ltd,
Daytona Drive,
Colthrop Lane,
Thatcham,
Newbury,
RG19 4ZD